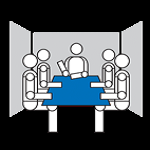 Lately I have been thinking: how are we really going to recover from this global economic crisis? This is a post for a CEO call to action. Not the government strategy – your strategy. You, the CEO leading a team of executives charged with the objective to grow. I'll give you the answer: innovate in the C-suite. That is to say, elevate Marketing's role around the executive table to innovate in terms of business models, products and services, and strategic segmentation to expand reach and satisfy more customers.
"Business has only two basic functions – marketing and innovation." — Drucker
C-suite Landscape – The CEO Call To Action
Marketing, is the role that must tie together the functions of business. It is the foundation, and strategy for sustainable growth. Surveying primary roles and responsibilities of domains in the C-suite makes this clear. At the highest level:
Operations' role is to make and deliver products and is responsible for driving efficiency in processes and the supply chain.
Finance and accounting's role is to manage capital and cash, and is responsible for monitoring the budget and regulatory compliance.
Human Resources'  role is to fill organizational needs and is responsible for nurturing strengths, filling gaps, and managing risk.
R&D and engineering's role is to design products and is responsible for ensuring safety, manufacturability and meeting requirements.
Information technology's role is to deploy and maintain IT and is responsible for maintaining competitiveness through infrastructure.
Sales role is to connect with prospects to close deals, and is responsible for managing long-term relationships with the customer.
Marketing works with every domain to ensure that customer expectations are communicated and met. The greater the reach and collaboration with a single, global, Marketing-based business strategy, the more successful the business will be, and the more satisfied customers will be. Satisfied customers generate repeat business and new business by word of mouth. This should be self-evident.
"The aim of marketing is to know and understand the customer so well the product or service fits him and sells itself." — Drucker
Question of Value
It comes down to the processes by which value is created, captured, and sustained. Holistically, no other C-suite domain constantly must examine the big picture, except Marketing. Certainly, the CEO himself/herself considers value holistically across decisions; however, the CEO hasn't the time to do the research, collect and sort through the information, effectively test options and prioritize direction while effectively balancing their own role. And, often it is the case that the CEO has has a finance, operations, or engineering background and lacks the skill and experience this effort demands.
Sure, Marketing must and does collaborate with members of the C-suite to achieve results in the create, capture, and sustain value process. But, why are these 3 points of value Marketing's domain, and no other? Let's look at each:
Creating value is the process of strategic market segmentation, target market selection, product and services positioning.
Capturing value is defining the right product, choosing efficient channels, developing effective promotions and setting a competitive price (also known as 4Ps).
Sustaining value is the programs, plans, initiatives and activities to grow the prospect pipeline, acquire customers, and retain them with sustained new value over time.
It's clear that these are the role of the Marketing domain and skill set. An effective CEO could only look to Marketing to build an effective platform of value that would support the corporate agenda, drive a broad respected marketplace position,  and broadly mobilize/motivate a smooth-running organization. The CEO could never look to Operations, Finance, HR, R&D, IT or Sales to set the business strategy on these three tenets of value without expecting a lopsided result.  It's time to break free from past thinking that Marketing is not an afterthought, something to sell the products that were produced "just because…"
"Marketing is not the art of finding clever ways to dispose of what you make. It is the art of creating genuine customer value." — Kottler
Moving Forward
There are two fronts that the CEO can drive discussion to action. First, the CEO must hold his executive team accountable for their own responsibilities. If any other leader at the table is allowing her/his organization to do another's (such as sales doing marketing), that leader is failing. Why? 1) the role is not getting done by the people who have expertise, 2) when someone hired to do one role, does another, the primary role is not getting done, and 3) the company is paying twice to do a single role/activity. Make a leadership change, or Get HR involved to sort this out.
Second, CEOs must make the rules of engagement clear. The CEO must enable Marketing and the strategy that Marketing lays out for innovation, value tenets, markets, positioning and on-point messages to be followed. The Marketing strategy is the CEO's strategy. The CEO must measure his executive team on how well they achieve his agenda in that single, pervasive strategy.  Hold Marketing accountable, but don't allow performance failures in other domains to be masked by the marketing blame game your other executives are not following your rules of engagement.
A New Era
Most CEOs are challenged today by waves of digital innovation in terms of social media, time compression, connected communities, and the ever-shrinking size of the global market – while at the same time, seeing the opportunity to expand business. The days where Marketing is "just the brochure and tradeshow people" are over. Marketing has a critical role today to bring us out of the global economic malaise by driving innovation even better than Steve Jobs at Apple – at your company. As a CEO, you want your company to innovate that well, if not better.  No other function in the C-suite has the training and expertise than Marketing. Today, Marketing's role is be your trusted advisor to generate enterprise value, manage massive amounts of complexity, and amplify a culture of constant innovation.
Questions to Ponder
If you are a CEO, and don't feel you have the right Marketing Leader at your table – ask yourself why? Have other executive leaders marginalized Marketing's contribution down to a promotionsfunction? How did that happen? Was it under your watch, or an artifact of a prior leader? Is Marketing organized as a part of Sales? or R&D? How does that present a conflict of interest for investment in innovation? How are you going to correct the situation? Do you allocate budget for Marketing expertise to the degree you expect results?
The results of your CEO tenure and reputation depend on how you respond to these questions with action. Stakeholders, customers, and shareholders are now vividly aware of the competitive landscape of your competitors. They will vote with their feet. This social microscope is on your leadership and the need to engineer strategy around Marketing won't go away.
"Poor firms ignore their competitors; average firms copy their competitors; winning firms lead their competitors." — Kottler
Transform the role of your CMO into being your trusted advisor on all things business strategy – you will be surprised.
Further recent reading for insight into the value of a CMO, and what she/he is thinking in your organization:   McKinsey Digital Advantage article: B2B Marketers: It's Time to Become a Growth Engine, AdAge article: How Do you Become a 'Super CMO' CMG Partners 4th CMO's Agenda (CMG Partners)