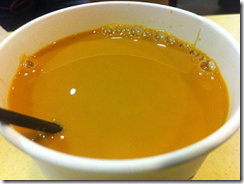 Barista Brand Power, this blog post, is my coffee shop experience today is a poster-child example for the point made in Seth's blog today, 18 July, 2012. I'll leave the coffee shop name out – you know it, they are everywhere.
Seth Godin wrote today about Marketers with Power, and the resulting consumer perception of brand that is a function of initial customer experience.
Read to the end, and share a comment if you have experienced something similar to this!
Barista Brand Power
With 6 baristas for a counter and single-lane drive through, I wonder why there are usually two baristas standing around doing nothing in my favorite international coffee house chain. I know this is not the brand perception they want to have in all their efforts to create jobs, drive sustainability and global ethics…, it just doesn't fit – but customers I know tell me they see it often.
Insult to 8:00AM customer experience is to be the only one in the store, wait over three minutes at the counter and have two different baristas say they will be right with me. Then, I place my order with the third different barista to greet me that day for a "House Blend" drip coffee.
The response: "we need to make some; can you wait a few minutes?" Another brand miss.
Never Run Out
This is the staple drink at coffee shop chain with a store on nearly every corner, and global presence, you know the one. How could they not have drip house coffee ready – at all times? And, in the morning, when volume is typically high, wouldn't barista's be checking availability regularly? How does it come to be that two people, now standing motionless for 5 minutes, didn't start this brew, before I walked in?
Sense of Urgency
Immediately, at my order, the counter barista begins to make the new batch. The two people standing around, waiting for a drive-in order, or specialty drink, continue  to stand motionless.
I mentioned what I observed to the counter barista, her response was an excuse, not an apology, making me feel it was my fault and I should order something else.
Ponder This Brand Question
Did the brand position in my mind improve or decay today with this experience? What was missing in the marketer's power that could have made a difference?
I'm a gold-card loyalty-carrying customer of this chain. I buy their mugs in every city I frequent, from here to Beijing to London, to remind me of the experience. I love those cups, but now they are reminding me a different experience than sitting on the grounds of Xian's Terra Cotta Warriors, drinking their coffee.
Epilogue
Customer Service is primarily about consumer experience, not just product. Even though, after the wait, the fresh-brewed coffee was tasty, the experience above all else, is what I remember, discussed with my colleague for 10 minutes on the nice comfy chairs in the coffee shop.
[Image credit: Yaongkamd, under Creative Commons Attribution-Share Alike 3.0 Un-ported license, via Wikimedia Commons.]