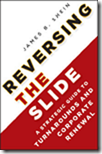 Author: James B. Shein
ISBN-10: 0470933240
ISBN-13: 978-0470933244
This book shows us the pavement on the road named turnarounds and corporate renewal by cutting through that which hides the shortest path to recovery. Every leader in every executive suite will benefit by reading and studying this book. Even with my own turnaround experience, I found the book to frame much more clearly the process and tools to improve.
With a simple model, the author calls the turnaround tripod, and the 13 week cash flow model the book takes us through the process of correcting a bad situation – reversing the slide. The processes and tools in the book also help identify opportunity for renewal before a slide occurs. Under anyone's leadership, organizations can slide for a variety of reasons – it is just a matter of when it will happen to you and your organization. Through the book, James Shein enriches every good executive's knowledge by equipping them with turnaround tools from the expert.
What Are Turnarounds And Corporate Renewal?
What is a turnaround? I want to be clear, and some of my blog readers may be asking. Wikipedia says "Turnaround management is a process dedicated to corporate renewal." The Author writes: "A turnaround is any effort to revitalize and make a clear change in the direction of a struggling business of any size. It also applies to improving a business that has simply underperformed its competition." There's no need to be shy about understanding what a turnaround is. The book points out that many executives (maybe even you?) are reluctant to admit that their firm needs a turnaround. So the less threatening term the author started using over a decade ago, is corporate renewal.
Also For The Start-up CEO!
Reversing the slide puts us in perspective by outlining the ten conditions faced by turnarounds and corporate renewal experts renewing a company. The perfect analogy is made that this is precisely the same set of conditions or challenges that a start-up CEO faces.
Lack of cash
Analytical needs
Hiring difficulty
Disbelieving customers
Time sensitivity
Centralized decision making
Scarcity of knowledge and risk
Supplier problems
Lack of credibility with lenders
Great chance for equity gains
Because of this commonality, this book makes good reading for start-up or growth-stage CEOs taking companies through transition stages of change, growth phase transformations and/or renewal.
Look Forward To Find Solutions
The author helps us look back and understand the many potential causes, the early warning signs, and the phases of corporate decline. The book's phase model of blindness, inaction, faulty action, crisis and dissolution, are evident in companies all around us and the author gives us healthy memorable examples and data to ground his analysis and guidance.
However, the better part of the book focuses on looking forward to create a work plan to get through the painful steps involved in turnarounds and corporate renewal. And to begin the more engaging process of corporate renewal. Nothing is easy in this process. It takes guts, decisiveness, and patience – and a forward looking focus. Reversing the Slide: A Strategic Guide to Turnarounds and Corporate Renewal provides the reader with the knowledge and tools necessary to get through it and perhaps even, get good at it.
The Turnaround Tripod
Becoming a turnarounds and corporate renewal practitioner, the author teaches us, requires that one follow a roadmap with three elements:
Strategic changes – determine the new strategic vision for the company going forward – clarifying its market and marketing, brand, core competencies and assets.
Operational changes – strip out the assets, reduce the superfluous competencies, and drop products/services and markets/customers that no longer support the path of that new strategy,
Financial changes – shore up the companies short-term financial position by selling, unaligned assets, reduction in force of unneeded competencies, and other tactics.
It's A Journey
My review cannot do justice to the topic; however the book will remain in my library for future reference. I've already found myself referring to it several times since I finished reading it last summer. Along the journey, James B. Shein helps us understand the role of leadership that we play. He helps us understand that downsizing is not a goal, but is a tool to support the strategy element of the turnaround tripod while changing financial burden. He shows us that turnaround is about cash. He shows us how to manage to cash with a thorough discussion of the 13 week cash flow model. The reader learns how to use the model to ground the turnaround plan in the realm of reality by eliminating fantasy and emotion. While there are many templates online for a 13 week cash flow model, the author graciously provides a superbly crafted Microsoft XL 13 week cash flow model spreadsheet online as a tool to match the book for the reader to download.
The book gives us the perspective of bankruptcy in terms of being both a sword and a shield which enables a company to do the difficult work required to reset a course to emerge as a stronger entity on the other end. It can be used as a lever (sword) and protection (shield) to reduce distractions and increase focus.
The author covers every base including international factors global turnarounds and corporate renewal. He teaches the reader how the turnaround process can benefit non-profit organizations. The book ignites your innovation and corporate entrepreneurial spirit to consider the possibilities for turning "duds into dreams."
Who Should Read This Book?
Clearly, anyone interested in turnarounds and corporate renewal should read this book – either because a slide is imminent or to become better prepared as a leader. I mentioned earlier that it is a valuable book for the start-up CEO and young leadership teams. The book should be on the additional reading list for any MBA student who wanted to differentiate her skills upon graduation.
Anyone in the executive suite can learn from this book. It renews the reader's understanding of strategy, operations and finance elements of change management. It can provide insight to those occasional challenges leaders ponder concerning marketing and brand (as strategy), organizational churn and sustainable product development, for example. Pointing out the perils of ungrounded tactics, James B. Shein effectively frames turnaround focus on the CEO's goals to achieve a specific corporate mission. Regardless of industry, government organization, or other institution you may be in, this book should be on your reading list.