Author: Nirmalya Kumar.
ISBN-10: 1591392101
ISBN-13: 978-1591392101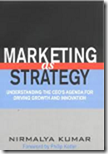 Marketing is in crisis. Both as a business domain and as a profession. What's difficult in understanding Marketing as Strategy? How could it stumble when excellence, speed and opportunity put it in such high demand? In May 2004, Nirmalya Kumar recognized the crisis and published Marketing as Strategy concluding that the very relevance of marketing is in jeopardy. He argues for CEOs to lead at the front, not the top in order to become market driving companies. This book is more relevant today than ever, with the advent of social media, connected economies, and time compression changing the face of business.
Marketing As Strategy
Nirmalya Kumar points out the need for the obvious (but, largely un-adopted) culture of customer-centricity. He calls out this critical and growing crisis in a time when marketing's role is fundamental to business. Marketing is a profession to take seriously and not everyone who thinks they can, are able to do it. And if a non-marketer is doing marketing, management is not holding them accountable for delivering on their own responsibilities. Widespread role abdication is an exponentially negative net drain on organizations and the bottom line.
Kumar sees the issue in three-parts. One part is for CEO's to recognize marketing's role as the source of sustainable profit-generating contribution and solution innovation for the organization. Another part is the complacence and sometimes ignorance in the executive suite and board room which has put the enterprise at risk by marginalizing the contribution of marketing. A third part he notes is that Marketing must step up beyond tactical execution, and play a strategic role by equally engaging in critical, strategic and metric-based dialog in the C-suite.
Kumar's premise is that Marketing is the businesses "transformational engine" and that the cornerstone relevance of the 4P's (product, price, place, promotion) of marketing have evolved and been augmented into a new model of 3V's.
Valued Customer – Who to serve.
Value Proposition – what to offer.
Value Network – how to deliver.
He suggests that his 3V's model enables us to more clearly break free from force-fitting products into solution characterizations. And instead, the 3V's help us to identify clearly how strategic solutions, as a combination of services, delivery and products, best serve the company's strategic segments for the greatest result to the bottom line.
While one could take the position that there is nothing new or earth-shattering in this book, I believe that like most complex things, constant reiteration and rethinking of the value and role of marketing is a good thing. Certainly, today it is evolving fast enough that this should be part of the CEO's mandate. Time changes the products and services we deliver, as well as the culture, age, and customer characteristics of the market. Everyone in the organization and management (including finance & accounting, human resources, information systems, production & operations, research & development and engineering) can learn and elevate their EQ and IQ from this book if they read it with an open mind, and recognize how the intense forces are changing their business environment today.
It is also a reminder of the synergy and intricate collaboration required among these groups for success and how internal politics can erode business potential faster than any other force. The book points non-marketing roles in the organization back to focusing on their own roles. It identifies opportunities to invite marketing into a stronger and equal position in the organizational pecking order in order to benefit every function. Kumar points out the role that the CEO should take to make this happen.
Kumar reminds us of the shift from product-focused to customer-centric, from market segmentation to strategic solution segmentation, and brand acquisition management to brand rationalizationall in a new context with a sense of urgency and proactive application. Take heart, while General Motors lacked the executive bench strength and board room fortitude in terms of marketing IQ which could have led them to reduce the number of competing brands before the economic catastrophe taxpayers saw unfold, Kumar points out that other companies like Unilever and Procter & Gamble have put the domain of marketing in its proper place on the executive bench and in the board room.
The value of this book is more relevant today and is a must read for all members in the C-suite. The speed of innovation on all fronts forces us to look to marketing in order for the organization to compete. With the exception of having a clear step-by-step action plan, the book accelerates to and through the conclusions at the end. Savvy CEOs will understand how and what to do armed with the new information. Perhaps there is another CEO playbook needed to take the 3V's concepts and expand them into a transformation and execution model. Maybe I'll write that!
Definitely worth reading.