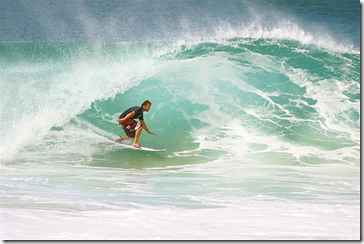 Leaders must have decision making ability. It's a job requirement. They must know how to make a decision, or take a decision made by others in the organization. There is no abdication of this responsibility, nor is there room for someone else to "coach" a decision or to "engineer" a decision for them. That's just an excuse to procrastinate and/or build in a point of blame.
Last week, an update was posted on LinkedIn's The Economist Reader group suggesting that a new engineering profession is emerging: The Decision Coach. Judging from the responses posted from a number of group members, like me, this suggests a sad state.
Today, I read Quartz on Procrastination at Work, and, McKinsey Quarterly on Making Great Decisions. Leaders are finding more excuses to avoid learning what we must be developed, nurtured and practiced in decision making skills. Then there was a good HBR Blog on What Ron Johnson Got Right at J C Penney that really exposes the gap.
Like a surfer, committing to a specific wave, a leader must make and take decisions. Like adjusting to a wave's unique ride, good decision making requires flexibility to go forward, constantly. Like a surfer that makes a mistake and paddles on to the next ride, a decision maker must allow and learn from failure.
Decision Making Reality
While everyone is dog-piling on Ron Johnson's failure to deliver on stakeholder interests, he got one thing right – he made decisions, and moved swiftly forward. Like the revolving CEO door at Yahoo, we can see how hard it is for decisive leaders to work through the process and get to an outcome. Read this HBR blog, it is revealing.
In my turnaround experience, decisions are critical. Some good insight is in my book review on Kellogg Professor James Shein's book, Reversing the Slide, A Strategic Guide To Turnarounds And Corporate Renewal. What I am beginning to realize is that turnarounds are less and less likely to complete in one turnaround CEO's tenure. I've lived through two of those.
If Johnson had one fault, it was not decision making – perhaps it was communication and setting expectations – up and down the organization. People in the ranks and on the board perhaps did not understand the challenge, the vision, and Johnson's instinctive decisions based on his retail experience at Apple – and the length of time it took to take hold on the X and Y generation the future). In the end, they did not understand what to expect, and how long it would take.
By the time stakeholders and boards of any company realize that a turnaround is necessary, a company is likely suffering deeply from years of poor decisions. The first new CEO in the door will need to build a new vision, get in touch with customers, and rapidly make decisions to initiate the turnaround. Any bumps in the road will reduce the likelihood of completing what must be done. They may get it started, but they will be, and are hobbled by the very board whose guidance, or lack of guidance, contributed to the company's need for a turnaround!
Let me get back to decision making.
Importance of Decision Making
Decision Making is what gets things done. It is what enables others to get things done. It moves the organization forward. Leaders have to be involved, do the pre-work, and make decisions. They also have to set an example for others in the event of a bad decision. Recovering and learning while moving forward is what sets great leaders apart from the rest.
In times of low pressure, leaders must stay involved and hone decision making skills. Under pressure, the practice allows swift action to make and take decisions.  In times of crisis or when risk of catastrophe or tragedy exists, leaders with well-tuned decision making skills move to instinctive execution.
Leaders cannot be tentative about decision making. It requires confidence of the type that is clear, firm unambiguous, and directive; yet flexible and open to adjustment along the way. And, yes, sensitive to people's interests. Your organization is watching and learning habits from your decision making behavior.
Decision Coach: Really?
I'm pretty amazed that this is even a topic. Let alone, that one would try to claim it as a legitimate engineering role. I imagine the engineering department at many an Alma Mater would find this humorous. There are many good learning resources on decision making, but simply put, leaders should to know these basic things:
Assess information
Make or take a decision
Move forward
Assess progress
Adjust/pivot/tune (if necessary)
Learn from failure
Move forward.
I can't stress "moving forward" enough. Carol Bartz, a mentor while at Autodesk regularly coached us to "fail fast forward." The sharp implication was to "do something" so everyone moves in a direction that supports progress.
Most important is that Decision Makers MUST make decisions, or take decisions made by others to move the organization forward. Bartz knew this, and taught it to us. Johnson at J C Penney did this – perhaps a bit too abruptly at times, but he did get it done.
Decision Making Types
Bartz taught us 4 decision making styles. She equipped us with tools, at the same time she delegated the decision making leadership responsibility to us.
Authoritative – A leader decides. This is reasonable, and often required in early steps of an initiative. It can also help when something is stuck or at an impasse.
Delegated – A leader delegates the decision to another to decide. Especially valuable when another individual has more expertise in a given decision area.
Consultative – A leader consults with one or more parties takes input into account, and makes a decision. Effective when a leader needs more information.
Consensus – A leader allows the majority of a group to make the decision. Effective when there is emotional tension, and a group is working together.
I'm not the academic authority, to be sure. Keeping these types top of mind helps me as a leader pursue both making and taking decisions. It helps me make the right decisions in the right way, at the right time, and involving people and affecting systems optimally.
To Ponder
We could spend more time on decision making styles, personalities, techniques, analysis,  process, and models. Instead, I want to emphasize: leaders just do it; they must make and take decisions and move constantly forward.
Elevating the observation that leaders are less and less, making and taking the decisions when they should is important. Having an opinion when leaders make forward-moving decisions that are scrutinized before the final outcome can be realized is good too. The points to think about as you lead:
If you are a leader, you make and take decisions. It is a requirement of the role.
Use the best decision type in context such that it achieves optimal results in the least time.
If you can't make or take decisions, you are not a leader in this situation. Step aside.
In critical situations, use your instinct as well as your knowledge and skill.
Beware of coaches. executive coaching can be good, but not if you offload the decision making responsibility.
In a turnaround, you will make many more decisions on vision, strategy, and expectations. Constantly communicate them.
Making Decisions. Just do it! Enough said.
Image Credit: Bugsy Sailor via photopin cc