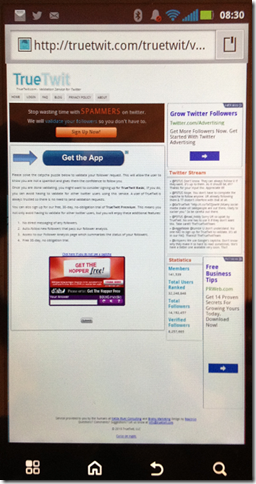 Today, I have five emails "@___ uses TrueTwit validation service. To validate, click here: truetwit.com/ABC123XYZ." I've been a lemming, silently typing the advertisement tagline, until this post. Today, I rationally determine that TrueTwit is not customer centric.
While I like the concept of TrueTwit to create better brand audiences, I believe it unknowingly creates barriers and the user experience algorithm is flawed. It can, and should be fixed through innovation and design thinking.
For the record, Google "truetwit is spam" or "truetwit is annoying" and you will see that I'm not the first, but maybe unique in the scenario analysis.
In building a social following for business, at first glance TrueTwit appears it can help. The net long-term result is probably not helpful. If you feel TrueTwit helps you weed out spam know that it also disenfranchises your audience.
TrueTwit is not customer-centric in converting your social audience into potential customers. Caution is in order. Recall that Twitter helps businesses develop an expanding brand audience such that you can create and capture value. That is value defined by Drucker and Kottler. TrueTwit creates a barrier between your brand and its potential Twitter audience.
Experience Shows TrueTwit is Not Customer-centric
Recently, I was followed by a Dude Ranch in the western US, (Keepign them anonymous). They found me.
I have been interested in dude ranch vacations; their follow caught my eye, and invited me to be part of their audience.
So, I followed them back. Thinking, "wow, this is interesting, their marketing strategists knew what I was thinking!"
Imagine my shock when I received a direct message (DM) TrueTwit notice. They found me, and I'm trying to become their customer!
After already expending the effort to follow-back, I now had to type in the answer to an advertisement for TurboTax?  Seriously?
I estimate that this experience took 3 to 5 minutes, and so does it take time for every person forced by someone that followed them first, to use TrueTwit. For a brand, as in this case the Dude Ranch, that adds up to significant negative sentiment. Using big data and sentiment analytics this no doubt converts to real lost revenues.
Bad Approach
If you are a business, brand, or an individual using Twitter to develop a following, TrueTwit builds a negative customer experience with your audience and prospective customers from the very first interaction. Here's why:
TrueTwit's approach

doesn't make it easy and is disrespectful of the follower's time

. The required steps force your audience to take orders of magnitude more time (read an email, click on a link, go to a browser window, read advertising, type in a phrase from the ad, and hope they didn't mistype it,…, just to become YOUR follower, and part of YOUR audience.)
TrueTwit's approach is

doubly horrid on mobile

. loading the advertisement takes forever, the data YOU pay for in your mobile carrier plan, reading the captcha or advertisement is impossible without magnification, glasses, and typing in the answer with your thumbs is error prone, costing more of your time and data plan.
TrueTwit's approach

exposes your audience to untargeted advertising

, that they don't want to see, or may already be customers of.
TrueTwit's approach uses

you as the pawn to collect advertising revenues

(are you getting enough of that back to make it worthwhile to treat your audience this negative way?)
TrueTwit's intent is good, but this approach

creates a conflict of interest

in the ultimate result – building a great audience and creating value.
Here's the conflict, you want to build an audience to sell YOUR brand. TrueTwit is selling advertising of a third party, making you the mule to generate their business – heaven forbid they advertise a competitive product to validate your audience. YOUR audience has the bad experience.  It seems better to give your audience a great experience, and have a few spammers than to lose potential customers.
What Should TrueTwit Do?
Clearly, they have a good idea, and (potentially in their intent) provide a profound and valuable service. TrueTwit's response might be "We have thousands of customers all satisfied with our service. And SteinVox should get the Mobile app, and become one of our customers." That doesn't mean it works for the long-term. The CMO at TrueTwit could analyze the customer experience scenarios and focus on generating value for both subscribers, followers and advertisers.
The TrueTwit captcha option is in the right direction, but it doesn't shorten the overall time it takes, requiring typing, application loading and switching from email, to browser, to twitter, and so on. This consumes time and productivity.
Innovate or Die
These stories (see the google links) identify interesting barriers – and opportunity for disruption. If TrueTwit doesn't do it, the lack of customer-centricity will drive a competitor to develop a better solution. Look at Netflix and how they have innovated over and over, sometimes with rocky transition, but always forward, and market-driving.
Advertiser Mistake
When advertisers require repeated user interaction to get past it in order to get something done, it builds a wall of negativity between the audience and that brand. If I were the CMO of TurboTax, Kellogg's Crunchy Nut cereal, Farmers Insurance or DISH satellite service on TrueTwit, I would do some research, and quick.
How many times have you typed "Get The Hopper?" Annoyed? It can't be good to have the twitter universe annoyed by your brand. Customers of these products may leave them, and prospective customers will position these brands as "annoying" before all value claims.
The lesson and rule here for advertisers is: don't abdicate responsibility for brand user experience. TrueTwit associates a negative experience to the brands it advertises when it forces typing in a tag line, repeatedly. I've typed taglines hundreds of times in TrueTwit, and I will not buy those products.
Epilogue
I'm not the first to make this observation. I may be the first to document the irony of the customer experience in these terms:
being found as a prospect by a business account,
being followed on twitter,
following them back,
forced to perform an annoying act by being asked type in another unassociated brand tag line,
thereby defeating the purpose of the original business' effort to prospect for followers, an audience, and prospective customers by the original business.
Understand that like everyone else, I don't like to receive direct messages from shady sources, or spam, either. I use tools (e.g., Hootsuite and Tweetdeck) to ignore the noise and exercise good judgment in reading valuable tweets. Spam is ultimately not eliminate-able, it is only controllable.
I use Twitter to communicate with followers of my business writing. I have a twitter philosophy, and it's posted. Perhaps I need to add these thoughts on TrueTwit, and its absolute miss-the-mark approach.
How we can change this? First, consider the customer experience scenarios with TrueTwit. If it is a negative, barrier, annoyance or hurdle to build your community, think carefully about it. Second, influence TrueTwit directly to innovate a better approach and true spam tool that does not alienate followers before they even become.
Image Credit: me.