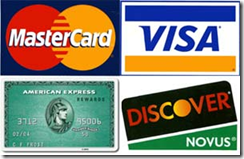 Credit-card-associated loyalty programs provide merchants with an automated traditional punch-card. This space is ripe for disruptive innovation, the kind that provides cross-merchant loyalty analytics. Something new is needed that merchants are not presently asking for. What will delight merchants more than punch-card rewards coordinated through their customers' credit card company is to gain business intelligence on the loyalty habits customers have with their competitors.
Loyalty and reward points smartphone apps have also attracted merchant interest – like Belly's BellyCard. But these too essentially automate the old punch card, enabling the merchant to do a better job of the same thing.
Using these programs merchants strengthen the relationship with current customers. A valuable thing to do, for sure.  However they do not contribute to new business growth from new customers. Growth of this kind comes from either taking market share or from expanding the market. Digital punch cards do not drive business growth in these ways.
On June 27, 2012, the FINS Morning Coffee (a WSJ publication) posted the article: "Loyalty Programs Push Groupon." I have some perspective on what Groupon's real business is (or might be – see my post Groupon: How a Real-time, Customer & Merchant Data Platform Could Radically Re-invent Commerce), or should be (perhaps as they build it in the back room).  But this article suggests that it might be time to unveil what Big Data can do for loyalty programs dramatically increasing benefits for merchants.
Why won't the credit card companies do this? They have Big Data on transactions, consumer and merchant behavior.  Credit card companies don't have the right motivation. They provide a loyalty program service in order to increase the number of consumers using their credit card. Credit card issuers' motivation is not merchant-centric like Groupon's is (or could/should increasingly be).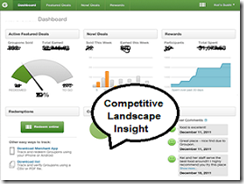 A new feature in the Groupon dashboard is needed. One that presents merchants with competitor loyalty insights gleaned from vast amounts of Groupon's data; accompanied by tools that enable them to pursue loyalty from existing customers while also pursuing growth from acquiring new customers with strategic loyalty offerings. That is to say pursue simultaneously both loyalty and growth, respectively.
Reading the FINS article tells me that the window of opportunity is open, but for how long? Loyalty programs are vying for merchant attention – splitting precious attention away from Groupon. And., the pressure continues to mount on Groupon for Wall Street performance. The time seems right to unveil a rich loyalty program that benefits both merchants and consumers – and that focuses on growth.
Groupon has the data asset to enable this one-two punch by leveraging a Big Data play. Merchants will love the insight to become more competitive. Consumers will see the bigger value that Groupon provides. Groupon can extend the lead ahead of other daily deals players almost instantly.
I know that Groupon has a loyalty program, they announced in May of this year – but the connection making merchants more competitive using Groupon's Big Data, is a play just like Google Analytics Premium is (for a fee) for web metrics professionals. This is bigger, and positioned differently from the existing Groupon loyalty program. Merchants want to see the direct connection to new growth along with their loyalty programs.
Seems like a good time.  If not Groupon, perhaps some other?
What cross-merchant loyalty analytics program ideas have crossed your mind?