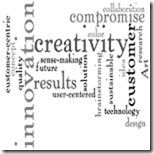 A disruptive shift from efficiency to creativity is what it's going to take for an effective and lasting economic recovery. The terminal drag of government, corporate and institutional efforts arguing over how best to squeeze out another percent of efficiency is never going to bring us out of the morass that is the state of the economy. These repeating arguments suck every ounce of energy away from examining new solutions for the future. It's time to compromise, get over it, and move on.
I've said "shift form efficiency to creativity" before, but only as a supporting point on other blog topics. If you missed them, one poignant topic referencing this is my post on "Carl Schramm – Straight Talk on Entrepreneurship."
Tough True Words
A long-time colleague sparked this blog post when he shared some sharp and clear points that transcend global boundaries in describing the economic situation.  His interesting phrases that I cannot take credit for, (as much as I would like!) follow:
"Bad alignment of the indecision moods, indeed!

…banker's greedy feeding frenzy has run out of morally corrupt politicians to sell financial drugs to, yet voters are still willing to believe lying politicians [from all party origins]. People are tired, stressed and looking for a summer pause [unlikely as elections ramp up in the West], which will drive further slowdown. So, we'll perpetrate [and perpetuate] the back-to-school-period anxiety of looming catastrophe, which we [both leaders and their constituents] seem to now repeat every year.

…the US is adding its own sauce of anxiety over what, from here [the EU] appears like a wasteful food-fight – the upcoming election."  […] There is so much to do, yet we [and our elected leaders] seem focused on standing still. […]"
80 / 20 Rule
As politicians, Executives and Leaders argue indecisively and inconclusively about what has failed, and how to reinvent the past, no one is looking at the future. Moreover, eluded to in my friends comments, is the argument on how we can squeeze the next 20% out of the budget, or increase in terms of efficiency, to survive yet one more elected term.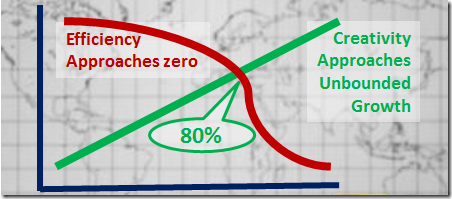 Why? Progress comes from the innovation that we implement in the first 80% of effort. The next 20% of potential is never worth it, and the energy expended can only go after diminishing returns.
Efficiency, from budget cutting, or operations, always approaches an asymptote of zero in terms of growth potential. The more effort we put into efficiency, the more cost it is to the organizational DNA necessary for growth. It's an obvious choice to take creativity over efficiency, as creativity has unbounded growth potential as it drives repeated innovation.
Let's get on with the next big thing.
Shift from Efficiency to Creativity
What do I mean? Simply put, efficiency is about squeezing out the last percent of production from a measure of effort. The problem with this is that this pushes one into the last 20% dilemma. And, worse, the last 20% efficiency efforts takes energy away from the next 80% growth opportunity potential possible from new innovation. This applies to governments, institutions and corporations.
The cost of more efficiency is creativity. Creativity in abundance is required for innovation. Creativity in government, institutions and corporations is at risk as the economy languishes and leaders fall back on MBA-learned operational efficiency tactics.
Creativity Is the Solution
In the past 4 years, we've erred on the side of excessive cost cutting and operational efficiency measures. Now, when it's overwhelmingly clear that innovation, the kind that comes from Steve-Jobs–esque thinking differently, is necessary, people are looking around and wondering where the creative people are that drove innovation in the past.
Don't get confused, creative members in your organization are not likely the typical inventors that have vision for what technology can do for technology's sake. By now, we've all learned the Field of Dreams lesson – "If you build it, they will not likely come, and more unlikely are customers going to buy it."  No, the creative types are those that think differently, and focus on the customer, the user experience, and drive that back into R&D as design thinking.
Shouldn't we make "creativity" a new metric for hiring in every role?  That is to say, the kind of creativity that focuses on delighting customers with exceptional and user-desired experience.  Enough research has proven it, so we now know creativity (not efficiency) drives revenue?
My Point
Does this sound unfamiliar? That's my point. We need more Jobs-esque customer-centricity to creatively innovate new products and services that create economic growth. This can't come fast enough.  And, as every ounce of energy is wasted by government, corporate and institutional leaders by arguing about what law must be overturned, what bailout causes me to swallow less pride, or who benefitted disproportionately in the past, the future pushes out another day. And, "we stand still."
Don't over-react – I'm making the point here. Efficiency has its place, but not to the nth degree that seems to be the focus as we lack creativity at the leadership level.
To Ponder
Can we stop looking backward, and begin to look forward? Seriously, with respect to the shift from efficiency to creativity, are we really arguing over the past, when we should be looking to the potential of the future? How do we create an organizational culture that nurtures creativity, and the resulting future growth it creates in corporations, institutions and governments?
How can everyone catalyze creativity focused on the next 80% of future potential? How can we focus every ounce of leadership (government, corporate, and institutional) on the future to accelerate creativity's positive effect on the economy?
Leave a comment.  Please share your perspective with other readers.