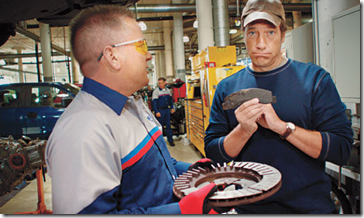 Many of us drive automobiles. We have built this relationship with cars for years. As I have this garage relationship, I have learned that Customer Service Trumps Sales.
We have been programmed by emotion-focused marketing that we are more beautiful, better liked, or more efficient in a particular make of car. We have been bombarded with a host of wild value propositions related to speed, design or virtue. In the end, automobiles are transportation, and often just transportation.
We learn how much we depend on our automobiles when we don't have them. When in the shop for service, we learn just how much service trumps sales.
We don't miss them because they no longer make us look beautiful that day, we miss them because we cannot get to where we are going. When we lose our transportation for a day, we are no longer dependable. We can't get to work, or pick up the kids from school.
Customer Service Trumps Sales
Anyone that owns or is involved with maintaining an automobile, should know that Customer Service Trumps Sales.
Once driven off the lot, who has ever had a sales person call them to sincerely follow-up? Sure, I have had a CRM-check-list call or two. However, it is pragmatically logical for sales to focus on closing the next sale. That's how sales people are measured.  I make no judgment here, just pointing out the obvious customer-centric perspective.
An auto purchase is the beginning of an inevitably long customer relationship. One that potentially requires regular connection with the dealer's service department. The service department is the pinnacle of customer service in the automotive industry. It is measured by the customer's only real interest – transportation. Not by how they look, how fast they drive, or who is noticing the status the car brings them.
Based on length of engagement time alone (often 2 to 3 years), the service writer behind the service desk has the greatest potential to drive repeat business. You know your service writer's name long after you have forgotten the sales person's name.
Responsibility for Revenue
Most people might think this section is about upselling service offerings, accessory sales. It could be, but it is not.
The service writer has the responsibility to ensure the brand's product promises are delivered. The service department ensures the transportation product achieves promised service levels are achieved. Subsequently, the service writer ensures all the value claims the sales person has made, have been met.
Service is the long-term connective tissue between the customer and the dealer. And, the service writer is ostensibly the account manager at your automotive dealer. He or she is the one person that can delight the customer through attitude, willingness to serve, attention to detail and customer-centricity. Hard to measure factors, but customers know them when they encounter them.
In terms of responsibility for revenue, the service writer has a profound influence over customers in the long run. All the spin selling techniques and other feature / function / benefit messaging and selling programs pale in comparison to the profound business-building effect the service writer has as he or she delights customers over the long term.
The service writer may well be the one person down the road that can legitimately communicate to the customer that it's time to buy a new vehicle…, He or she plays a pivotal role to set the stage for the customer's next automobile purchase.
Anecdotal Comparison of General Motors and Ford
I find it interesting to compare General Motors with Ford.
General Motors advertising shows their brand as erotic relating it to a beautiful woman in a hotel room, or high-performance Cadillac's driving on closed track at the Monaco Grand Prix or cliff-edged roads at high speed and in a manner that no driver will or should handle that vehicle.
Ford, on the other hand, is using Mike Rowe the Dirty Jobs guy to define and emphasize the long-term value claim that Ford customers have with their service departments. They use a service writer as an example. [Full disclosure, I drive an 11 year old Ford F150, with 120,000 miles that will be with me for a long time to com. My wife's car is a 7 year old Audi, and my kids share a 4 year old VW.]
Advertising works – I like both these approaches, as far as advertising goes – but for the purposes of cost effective transportation, I resonate more with the Ford message.
To Ponder
I recently started driving 22 miles to get service. I go there for one reason, the service writer on the other side of the service check-in counter. He has an attitude and customer-centric style that makes it easy to feel valued. And, even if the service involves bad news, he has a way of delivering it to me as a partner with me to find a solution.
News stories of repair rip-offs like this one in Denver is beyond the scope of this post – but important. Nothing is worse than learning you have a problem with your car that you have to fix, when you didn't suspect it. Getting that truth about your transportation takes a delicate style from a qualified service writer that can use language in the right way to ensure your safety, while making you feel valued.
My favorite service writer delivers the brand promise of reliable transportation at the cost that I expected when I purchased the vehicle. He doesn't make the customer feel more beautiful, or better liked by his or her friends. He spends the next 2 or 3 years ensuring I get the value I was promised at the sale.
As I think about this week's experience I am seeing parallels with just about every other industry. In this context, is there really a difference between a product and service industry? Are product industries really service industries in disguise?
Ultimately, doesn't customer service position products, the brand and companies that make them such that we love them, and come back to buy more? Doesn't this mean that customer service trumps sales?
Image Credit: My Ford Magazine, Online. "When Should I Check My Brakes," Sourced 27 April, 2013.