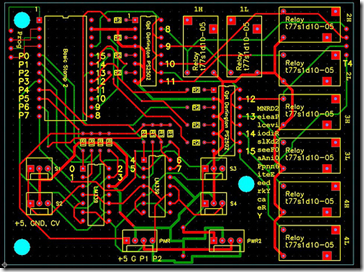 Like trying to understand an electrical circuit board without the schematic, it's hard to keep up with the complexity and importance of the five core marketing functions without a reminder from time to time.
And, with the daily hype around the tactical effort, tools, and constantly changing environment of social media, it's easy to lose sight of the five core marketing functions.
As a corporate advisor and successful turnaround CMO, I regularly discuss the big picture as I guide CEOs and executives in building sustainable organizations for the long-term.
If you are a marketing leader, CMO, VP of Marketing, or Director of marketing, and you haven't read at least a dozen articles in the past 3 months about how "Social Media has changed or replaced marketing," then you might either be incredibly busy or already understand the foundational five core marketing functions.
Importance of Core Marketing Functions
The five core marketing functions are every bit as important as R&D, operations, and finance – and by many accounts, even more critical to the business. Think back to business school and recall what you learned. Or, review your most recent business failure. Was there enough horsepower behind marketing?  Were the marketing basics of creating value, capturing value and building programs and plans for sustaining value put in place before the social media trigger was pulled?
To understand these core marketing functions, one has to relax and clear their mind of the day to day frenzy of delivering on tactical activities and all the pressures of every other executive's demands on the marketing function in your organization. To do so, will allow this blog post to give you insight as to how you might need to organize for success. Do it now – relax and breathe deep before you proceed to read.
Oh, yes – you will find social media's pervasive role described in context of the Five Core Marketing Functions at the very end. That way its tactical potential can be integrated into the structure of these functions more effectively.
Internal Business Process Chain
A good friend, business mentor and coach once told me that every successful business needs three things.
Make a product or service.
Market the product or service to customers.
Manage the money.
This over-simplification makes a point – and helps us avoid being distracted by the most recent shiny object. My friend also indicated that "he has never met the person that could do all three of these functions." Perhaps there is someone that can do 2 of these, but understand in addition to the different talent required, there probably isn't enough time in the day to do more than any one of these well.
Recognizing this fact helps to understand the value of organizational roles differentiated from specific tactical activities.  A model I created many years ago and have successfully used in technology companies looks like this.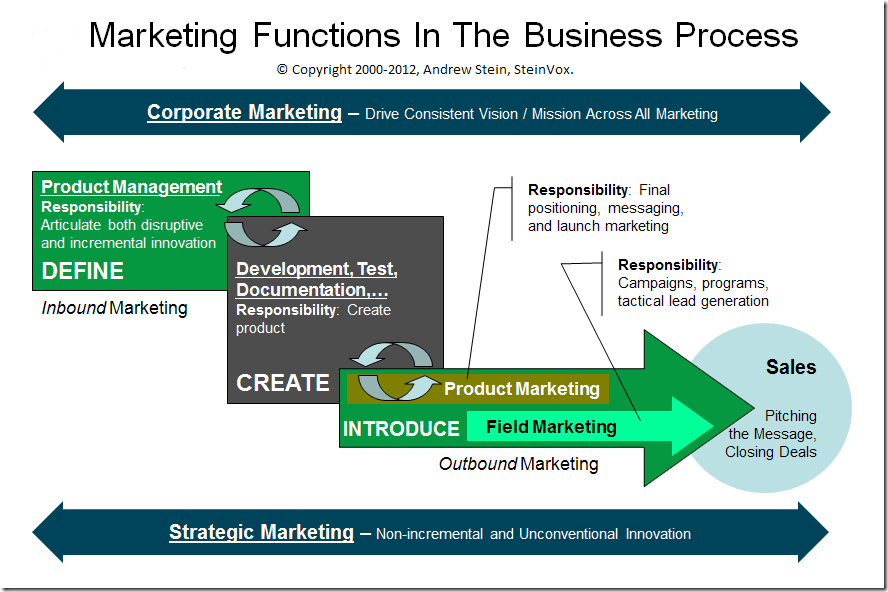 This model will take some digesting – and it will be the basis for a number of future blog posts from me. Briefly, the following describes the five core marketing functions in the business process.
Corporate Marketing
This function has global marketing domain to set and enforce brand standards, define global infrastructure for public relations (PR), investor relations, advertising, corporate communications, event strategies, user group community programs and production synergies across all marketing. Operates on an annual corporate marketing plan calendar assembled from editorial, PR, product roadmap, and other coordinated calendars to deliver on milestones and objectives.
Strategic Marketing
This function sets strategies for growth, assesses competitive landscape, works with engineering and product management to perform gap analysis, performs make vs. buy analysis, proposes and performs due diligence for merger and acquisition (M&A) targets, creates, develops and manages partner programs, manages key relationships to support technical, business, and other strategic needs. Strategic marketing operates on an opportunity-based calendar.
Product Management
This function is the owner of the product and its long-term strategy (multi-release through end-of-life) and current direction (next release), articulates innovation such that it can be built and marketed. Defines and communicates initial positioning and messaging, pricing strategies, commercialization strategies, go-to-market strategies and competitive positioning. This function works in a cross-functional team with sales, marketing, product development, R&D, engineering and operations functions to achieve pre- and post-launch results. Product management operates on a product-lifecycle calendar.
Product Marketing
This function builds and drives launch plans for products and service offerings, refines raw positioning and messaging (received from Product Managers in MRDs) into crisp value propositions, drives tactics for product and services sales training programs. Product marketing operates on a product-lifecycle calendar.
Field Marketing
This function's modus operandi is to execute, execute, execute… marketing programs and campaigns that have a singular focus of lead generation and driving opportunities through the pipeline. Operates under a quarterly calendar. This function has dotted-line or direct matrix reporting to the divisional or geographically distributed organizations.
Things To Ponder While Digesting
Each of these functions operates on a unique calendar – which is a driver to recognize that there are many core marketing functions.
Marketing business processes are not linear – all these core marketing functions are iterative, both on a micro-scale and a macro-scale. Micro-scale means that within a product lifecycle, change can happen through iteration, and on a macro-scale, the process does not end, it circles back to begin again.
Marketing presents a unique organizational challenge. Just as no one person can be the R&D (make the product) Marketing and Sales (market the product) and the company accountant (watch the money) – all at the same time, there is no one marketing person that can effectively do all these functions simultaneously.
Understanding what we mean by innovation, vs. say, product launch, for example, helps to balance demands on the marketing professionals you have and need by organizing properly and effectively.
I know a few human resources professionals who fully understand these functions and the unique demands on each. Engage human resources as a partner and fill any gaps around marketing as business strategy to engage their support.
These roles may not all be organized under the Marketing VP or CMO in your company. They may be in silos, in matrix organizations, divisionally structured and/or even globally distributed.
Marketing functions may be achieved through shared roles in non-traditional marketing organizational structures. For example, field marketing may be organized in the sales organization. This is not wrong or right, just something again to observe.
Whether your company is a small startup, or a large multi-divisional conglomerate – these functions all exist, and are done at some level of effectiveness.
Understanding now that each marketing function exists, and the activity is done. Recognizing this from an organizational perspective enables one to coordinate better results.
Pervasive Social Media
Social media fits in each of the five core marketing functions as the anchor to carry on a conversation with the customer. Each function must be connected with the customer, just as every group in a modern company must be. Interestingly, my model demonstrates the pervasive demand of social media in and across an organization. The five functions of marketing are grounded in the business strategy fundamentals of creating value, capturing value and sustaining value – which effectively drives any social media initiative.
Understanding the pervasive shared responsibility for social engagement, this then becomes the single argument against hiring one single social media marketing person or social media marketing agency. It is impossible to expect any effective performance, positive outcome or success beyond some immediate tactical metrics. Social media efforts, and therefore customer engagement, must be grounded in the five core marketing functions.
Social initiatives must be integrated into the larger marketing business processes. They must carry on the conversation with customers, markets and industries that the core goals of the business have outlined at the highest levels of its vision and mission.
Please leave a comment. Others value your thoughts as they ponder and digest how this affects their own organization.