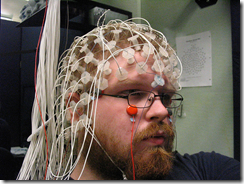 Today, a colleague asked if I believed in "neuromarketing?" Not the emotive-response kind, where brain activity is measured in response to imagery and advertising, the tactical kind of neuromarketing that structures marketing's activities, programs, and efforts.
I do think there is value to neuromarketing as a way to bring marketing to the table as part of the solution to drive growth for business and entire economies.
Let's first ground the discussion in a concrete definition of what marketing really is. Then, let's define neuromarketing.
In business and economics, marketing is the transformational engine of growth. Marketing is about people, understanding their interests and problems, anticipating future (sometimes unknown) needs, developing products and services to satisfy those needs, articulating claims in terms specific to customers' interests and needs, and delivering in a way that exceeds customer expectations. This is all done in order to generate repeat business and grow a community of users for a sustained, profitable and long-term enterprise.
Were you thinking that marketing was brochures, PowerPoint presentations, websites, social media and logo branded pens? If you were, then you may have missed Marketing 101, where the lifecycle, and the five functions of marketing were outlined in terms of the 4Ps, 5Cs, positioning, and messaging, and other fundamentals required to create value, capture value, and sustain value in successful business. In three words: marketing is strategy. Good strategy we know is a pervasive strategy. What then, is neuromarketing?
According to Wikipedia, neuromarketing is "a new field of marketing research that studies consumers' sensorimotor, cognitive and affective response to marketing stimuli." The concept, Wikipedia says "was developed by psychologists at Harvard University in 1990. The technology is based on a model whereby the major thinking part of human activity, over 90%, including emotion, takes place in the subconscious area that is below the levels of controlled awareness."
Neuromarketing Becomes Vogue
Recently a number of marketing agencies and in-house teams have adopted a codified form of this Harvard concept. This codified form focuses on the psychology of the customer's pain point, and the claims to which the solution offered will reduce that emotionally driven pain point for them. Neuromarketing agencies often follow these basic steps in developing neuromarketing strategies, tactics and deliverables for their clients:
Listen to the customer
Understand their business
Identify and understand pain points that can be solved for them
Show that you have a solution for their pain
Prove that it works with evidence-based positioning and messaging
Deliver and exceed service-level expectations
Listen for feedback (repeat cycle)
These steps them frame and form the resulting marketing strategy, tactics and deliverables.
The Good – Neuromarketing Codified
I think neuromarketing is a good and well-named differentiator for agencies and practitioners that use it. Some agencies have even branded their process around neuromarketing. I believe that is good especially when it is used to define, support, and drive core marketing tenets, processes, and fundamentals. As a result, businesses may recognize, reemphasize and amplify the contribution of the marketing profession in a positive way.
The fundamental underneath neuromarketing, is "real marketing" like we all learned in business school. There's really nothing profoundly new – neuromarketing in vogue today reignites the "focus on the customer, his/her needs, and positioning and messaging to serve those needs." It redirects old inward looking feature-function-benefit approaches to an outward-looking market-understanding and customer-pain-solving approaches. Neuromarketing legitimately demonstrates our interest in reducing customer pain more than listening to ourselves spew product specifications. That's a brief analysis, but like many things it's the necessary essence.
The Value – Grounded In Fundamentals
Kotler and Drucker have been rallying this exact (neuromarketing) cry for marketing, as both a domain and a profession, for over 50 years. Only they used different, perhaps academic terms in texts, lectures, books, articles and more. All too many leaders have missed these fundamental points from Kotler and Drucker. Some leaders, thinking that marketing is broken, dead, or somehow replaceable are looking at neuromarketing as if it were something different than what they perceive marketing to be. They are unaware that it's really just the fundamentals, done under a moniker that helps focus on the customer's emotional response!
For this reason, I like "neuromarketing." It can and is used to redirect and correct broken perceptions of marketing in the executive suite. It starts the conversation around "what is missing or needs to be changed in terms of leadership, organization, company-culture and especially team collaboration. It re-frames the marketing-as-strategy conversations necessary to build a core marketing competency while elevating the value of the profession, its processes and organizational investment required.
The Bad – Not A Panacea
Neuromarketing is bad when it is thought incorrectly to be a panacea, or some kind of replacement for marketing in general. It is bad when a CxO, VP, manager or function (account managers, finance people, weak marketers, or anyone else) who lacks deep understanding of marketing as strategy, looks to neuromarketing as a solution to failed leadership. Leadership must first elevate "marketing" as a core competency if neuromarketing is going to be effective.
Equally bad, is when a marketing agency, makes statements that "'marketing is dead', now we all need to replace it with the new thing, neuromarketing." This only drives fear in decision makers, leaders and people as they try to keep up. It also propagates doubt and risks ROI from marketing among members in the executive suite. This is one place that marketing needs more confidence, not more doubt.
Ponder Your Position
I may be an outlier. I have deep interest in revealing the fundamental connection between marketing and strategy for business. Be it a start-up or Fortune 50 corporation, it is in the best interest of the economy to elevate marketing as a critical core competency that delivers sustained value. Marketing requires an equal voice in the executive suite when it is based on long-understood fundamentals. Now you know the good, the bad, and the value of Neuromarketing.
I've spent a good amount of time in the C-suite, helping executives understand marketing-as-strategy. And the marketing profession itself has a lot to do with the failures where "marketing" is defined as "promotions" instead of real "value-creation, value-capture, and value-sustaining business" activities lead by trained marketing leaders with an equal seat at the table in the c-suite. However, we all own the responsibility to collaborate, and improve marketing on all fronts. Leverage marketing fundamentals and neuromarketing, or what is vogue for your business.
Please leave a comment, and share your thoughts with others so they can learn from you.
Image credit: Ian Ruotsala via photopin cc