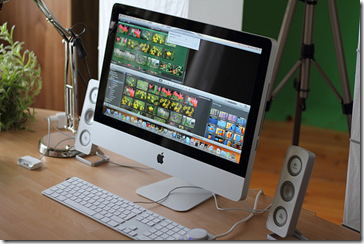 I think if I read that the PC has died, one more time, I'm going to flip. The PC is not dead and Laptops and desktops are not going away anytime soon. A Google search on the term "pc is dead" turns up dozens of articles, as recent as 30 November 2012 and from sources from MIT Technology Review and CNET to Forbes and even Fox News. Only one article from PC Magazine carries my torch, from Tim Bajarin, The PC: "I'm Not Dead Yet."
For gosh sakes! Even Google knows the PC is not dead as they advertise their Chromebook laptop on TV these days. Simultaneous with their launch of the Nexus smartphone/tablet in 3 sizes, they recognize that for homework, and for working from home you may need more than a tablet for many purposes.
The PC is not dead, but there is a rebalance going on. The rebalance is in two forms.
The rising use of mobile tools (smartphones and tablets) for users that previously had no device to consume digital content.
The shift of users with laptops, or even desktops, that never needed a comprehensive tool to create digital content in the first place.
Real Content
But, the fact is, Real content (for consumption by a tablet) must be created, and that requires more than the tablet that will consume and present it in human-sized attention slices. Therefore, the PC is not dead – it's just busy creating content for all the tablets out there to consume. I'm not talking about Twitter exchanges and Facebook threads and such.
I'm talking about hardcore content, like the written word, books, well curated scientific papers, design documents, manufacturing specifications, and so on. This is the meat of the content which content consumers seek a three-sentence answer to a question posed to Google search. Someone is creating that content. Someone is writing that blog. Someone is developing the webpage, and HTML5 source.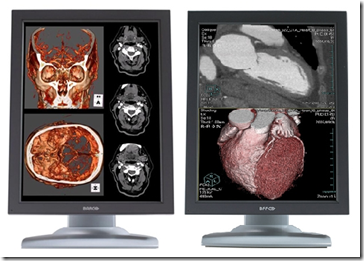 These content creators know and use tools like CAD/CAM and understand the Chicago Manual of Style. Don't forget graphics and video editing, digital arts and music, gaming, healthcare/medical imaging, energy (subsurface exploration) and the environment.  I don't think that the interactive solutions for oil and gas reserves modeling, or climate change prediction, or (please no!) the interpretation and diagnosis of my latest cardiac or brain MRI, is going to really be trusted if your physician does it on a smartphone. The Barco medical imaging displays to the right are made specifically for this purpose, and are driven by much more powerful graphics than "retina display" tablet technology. For the $12,000 price tag, this kind of technology gives patients a bit more confidence in their specialist!
Recall that I said that a rebalance is underway. Sure, not everyone is an engineer, graphic artist, or physician. However, there are a lot of these and other professional people. They will keep the PC alive for many years to come, until something innovates enough of its capability, power and performance. Innovators welcome.
I'm Not A Heretic – The PC Is Not Dead
The key element here is "digital content." Recently Chris Brogan wrote about the "Phoneternet" in his email newsletter on Sunday 09 December of this year. Chris's email newsletter was based on an update from Mary Meeker, the Kleiner Perkins guru, on The State of the Web that she gave at Stanford recently. Based on Mary's update, Chris noted that "more often than not, […] people are requesting and being granted tablets instead of laptops."  Totally agree with Chris on this point. And, I'm a big fan of Mary Meeker – I just wish Kleiner Perkins would open an office here in Chicago, and hire me!  In terms of global growth, Mary Meeker's numbers  imply that like the mobile phone, many developing nations will skip having desktop/laptop computing just like some have skipped traditional land-based phone lines in lieu of mobile telephone communication.
The Wrong Conclusion
The conclusion: "the increase in demand for tablets means the demise of PCs (laptops or desktops)," is just wrong. This conclusion just can't co-exist with the other colloquially common conclusion that this is the "content" era. Serious content, content more than 300 words, carefully laid out with graphics, figures, references, and more will need more than the tablet can provide.
Asset Light For The PC
Mary talks about Asset Heavy and the new Asset Light generation. I agree. I recognized this differential just by traveling to the Nordic countries in the past, that there was a lighter option to our heavy industrialized world in the US. And, for consumer consumption of digital content, the lighter tools (smartphones and tablets) are king here. The best Apple innovation for content consumption devices this year was the miniaturization of the full-sized iPad into the iPad Mini and the latest phone revision, the iPhone 5. It appears that consumer content-consumption devices have a slowing rate of innovation. However, on the content creation side, there is room for significant and disruptive innovation. Here's a few ideas toward a content-light computing platform.
Desktop boxes can have increased power and performance relative to size, for sure.
The cloud can play a part in the computational horsepower, too.
Displays can become ultra-thin, and even perhaps flexible enough to roll them up and carry from room to room.
Input devices that do better voice interpretation to haptic touch-feedback.
Virtual reality visionarium immersion and interactive holography environments.
But a bigger interactive form factor, bigger than a tablet, is going to be required for creating a lot of content. No tablet user, or consumer of content will want, need, or be willing to pay for, this much power, that the content creators require.
My DeskTop Environment
For me, I manage this blog, #SteinVox, and several websites. I would pull what's left of my hair out if I had to manage that blog using a tablet. It's just not a reasonable comparison to say that a 12 inch tablet screen is going to replace my dual-head NVIDIA GeForce driven dual head display and quad-core PC. I regularly have 2 and 3 dozen PC applications running, hardcore applications like Photoshop, 3 different browsers (Chrome, Internet Explorer and Safari) up, along with 4 email accounts, both Hootsuite and Tweetdeck and as well, a 3 to 5 other real-time social and web analytics clients.
The important piece is not dual or triple monitors, but screen real estate. Several studies from Pfeiffer Consulting (commissioned by Apple), The University of Utah (commissioned by NEC) and Microsoft Research, have concluded that screen real estate increases productivity.
I wrote in another recent #SteinVox post earlier this year "Creation and Consumption: The Mobile Platform Effect," that tablets (and smartphones) are best used as consumption devices.  And, it will take some significant innovation for them to effectively replace desktop (and laptop) devices for content creation.
To Ponder
What will the new serious, high-performance, high-capacity content creation tools be like in the future? I'm not sure either, but my Desktop isn't going anywhere fast as the rebalance continues.  And from the marketing I get from HP, Acer, Asus and Dell, I know that they are perfectly willing to sell me a new one, multiple times faster, and even cheaper. Sign me up for beta versions of new high-performance computing tools that fit in my home office. Asset Light, to be sure, but something more powerful than a Tablet, please.
UPDATE 12/12/12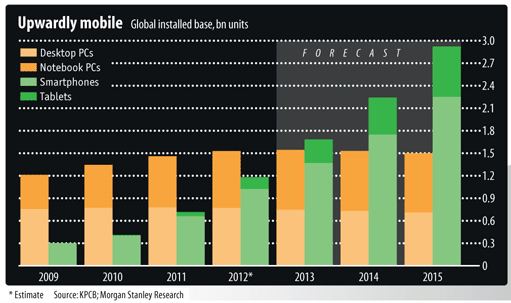 I came across this chart, from an article online in The Economist, "Live and Unplugged."
The chart clearly shows that PC and Notebook PCs (laptops) are NOT Dead. The chart reflects the rebalance that I described. It shows an adoption of mobility platforms for users that consume information. I suggest that these users either didn't have the right computing tool for their need, or didn't have a tool at all.
Thank all of you that have sent me direct email that you too believe that your content creation efforts would never happen on a tablet – supporting my premise: The PC Is Not Dead.
Image credits:
Apple Workstation: Rego – d4u.hu via photopin cc
Barco Medical Imaging displays: Dell Computer eCommerce website.
Upwardly Mobile Forecast Chart: KPCB; Morgan Stanley Research via The Economist.